To sum up 2019, we want to highlight the package available in Asset Store, i.e. Forest Environment – Dynamic Nature, which last year, our partner, Nature Manufacture studio, introduced to its regular sales.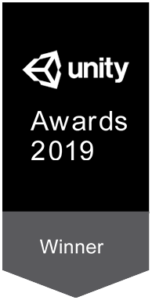 In short Forest Environment – Dynamic Nature is containing a huge library of 100% scanned assets, carefully optimized, atlased, LOD'ed, created with a view to building the natural environment. Contents of the package allow you to create a forest environment with a small meadow. The new asset introduced at that time was not only positively received by Asset Store customers but also became a valuable tool for creators. An example of its use was presented by MPC Film studio (the company who creates visual effects for movies), which we mentioned and wrote earlier about here.
The culmination of recognition for the results of work on this package was undoubtedly the end of the year when Forest Environment – Dynamic Nature was among the nominated asset for the Unity Awards 2019. It was a great pleasure and honor for us to be part of the project, which thanks to the support of the community managed to get first place in the Best artistic content category!